36 min: Raum shovels a pass down the left channel for Hofmann, who reaches the byline but can't wrap his foot around the cross. Goal kick.
35 min: Sterling is good to continue now, though he's grimacing quite a lot and moving very gingerly. This doesn't look particularly promising.
34 min: In the other match in group A3, Italy have taken the lead against Hungary, Nicol Barella opening the scoring on the half hour.
33 min: Now Sterling is down, and he's clutching the back of his right leg. Never a great sign.
32 min: It's established that both players are good to continue.
30 min: Trippier stretches to flick a defensive header out of play, then accidentally lands on the nearby Hoffman's heel. Another totally accidental collision, and one that's caused both men some pain. On troop the physios again.
29 min: Musiala sees another shot blocked. Havertz flicks a header goalwards, an easy claim for Pickford. England go up the other end, Bellingham's shot charged down by Rudiger. Kane rolls a ball across the face of goal that Sterling can't reach. This is great fun, in the basketball style.
27 min: Now Maguire pops up in Germany's box, attacking Trippier's corner from the left. His high challenge forces Neuer to fumble. The ball drops to Kane, who lashes over from six yards. A huge chance spurned, though the flag then went up, suggesting Maguire had impeded the keeper, and that the goal would not have stood.
25 min: VAR takes an age to check the fairly obvious offside. The goal is indeed chalked off. Maguire was all over the shop there, mind you, caught the wrong side of Havertz under Klostermann's long ball, and hauling him down. He was technically the last man, too. That may have been what VAR was pondering. Anyway, he goes unpunished.
23 min: Maguire clatters into Havertz in the center circle, wrestling him to the floor under a high ball. Hofmann is suddenly clear on goal, losing after Klostermann's long pass. Easy as that! Hofmann opens his body and slots powerfully into the bottom right. But the flag goes up for offside.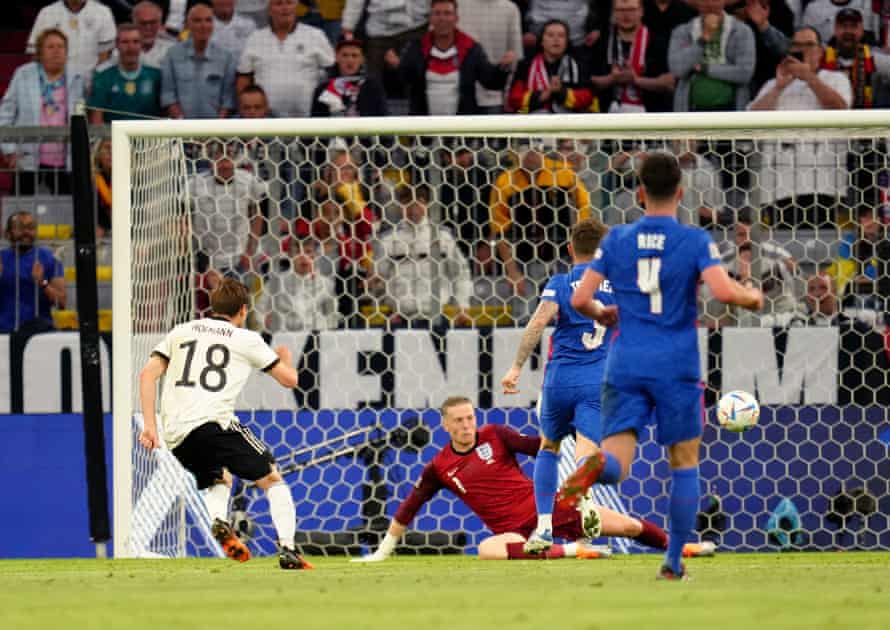 22 min: The early tempo suddenly drops. Nothing going on. And then …
20 min: Trippier takes his time over a couple of throws down the left. Smart game management, with Germany building up a head of steam.
18 min: Klostermann strides purposefully down the right. Havertz is waiting to be sprung clear down the middle. Not sure where the England defenders are, but they can be thankful to Rice, who sticks to the side of Klostermann, ensuring the pass to release Havertz is never on.
17 min: Rice's weak backpass is only just hacked clear by Pickford. Havertz returns the ball down the right for Hofmann, who crosses low towards the near post. Musiala can't quite connect while sliding in, and Pickford claims in a slightly scrappy fashion. England aren't coping well with Germany's press.
15 min: A long pass raked down the Germany left. Walker gets enough on his header back to Pickford … just. Raum was lurking just behind him, ready to pounce.
14 min: Phillips can't continue, and he's replaced by Bellingham. What rotten luck the Leeds midfielder has had with injuries this season.
13 min: Phillips goes down again. The whistle goes to stop play. As the whistle sounds, Muller latches onto a long throw down the left and loops over the stranded Pickford and into the empty net. He celebrates a goal, and is suitably furious when he realizes it won't count.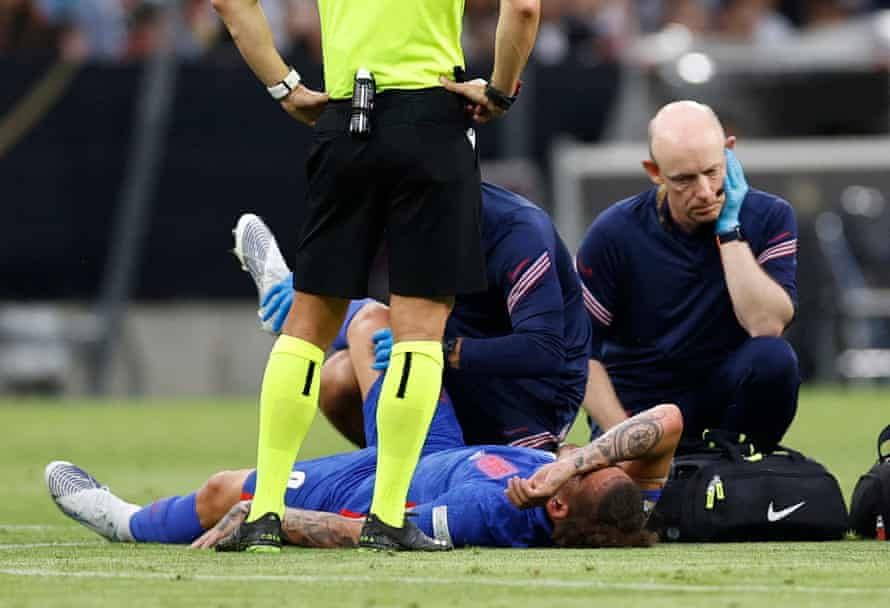 12 min: Phillips comes back on. He's not moving particularly smoothly, though.
11 min: England are down to ten for now, as further checks are run on Phillips. Musiala has a dig from the edge of the box. He claims the ball has hit Rice on the arm. He might even be correct, but the players were so close together, he's not getting the penalty he wants.
10 min: Phillips gets up and limps towards the touchline. He shakes his head sadly. This doesn't look great.
9 min: Schlotterbeck comes striding out from the back in Beckenbauerian fashion, and clips a pass wide right for Muller. As he does it, he clatters into Phillips. Or perhaps Phillips clatters into him. Either way, it's accidental, but the England midfielder has come off worse. Play is stopped and the physio comes on.
7 min: The ball's worked back to Kane, who lets rip towards the top right. Neuer is behind it all the way. A good response from England.
6 min: Muller is robbed by Phillips on the left touchline. He wants the foul, but he's not getting it. Sterling is sent into space down the inside-left channel, and his shot-cum-cross is deflected out for a corner.
5 min: Some good work by Rice down the left. The ball finds Mount, just to the side of the German box. He's got a little bit of time, but doesn't risk a cross, instead playing the ball back up the flank and retaining possession. Admirably patient, or overly conservative?
3 min: Rudiger flicks the corner on at the near post. Muller prepares to trundle home, like his namesake Gerd, at the far post. Before he can do so, Walker does extremely well to flick out for another corner. Nothing comes of the second one. Fast start by Germany, though, and a very shaky one by England.
2 min: Havertz takes a whack at Pickford from distance. Pickford claims easily enough, but upon setting England off on the attack, Tripper carelessly concedes the first corner of the match. Kimmich will take from the right.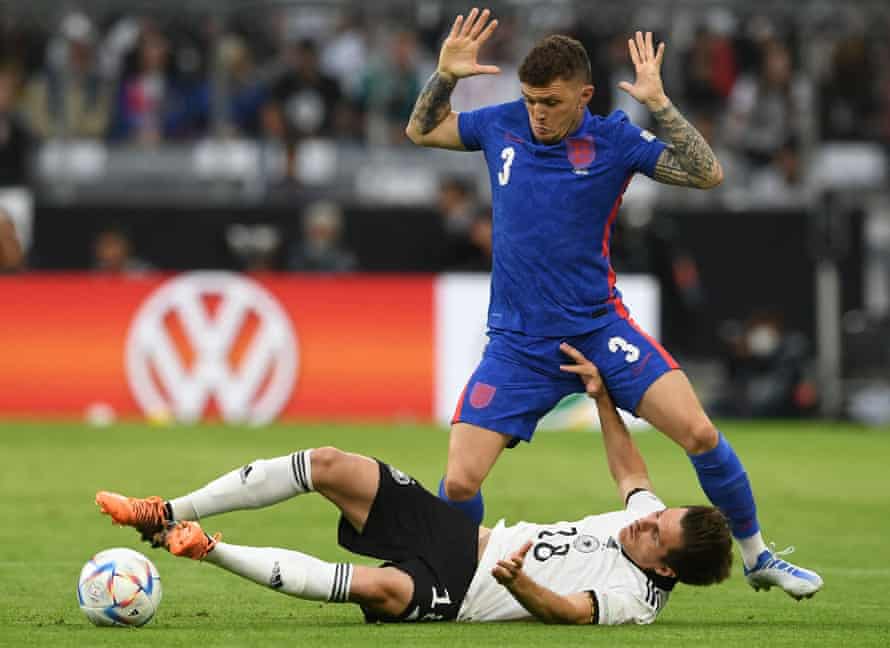 Both sets of players take the knee to warm applause from all four corners of the stadium … then England, in blue, get the ball rolling! Germany wear a new strip with centered crest. They'll never beat this one.
The teams are out, and they're caterwauling their way through their respective national anthems. Some whistling from the away section when the vastly more tuneful German ditty is played. How rude. For goodness sake. But never mind that! "You mentioned the 5-1," begins Andreas Kungl. "Whenever that happens, I remember an article from your very own Marina Hyde, just before Bloemfontein. Maybe you would care to reference in the buildup of the MBM." Your wish is my command, Andreas. Enjoy, enjoy. We'll be off in a minute.
Gareth Southgate speaks to Channel 4. "The preference we had for this game was earmarked anyway. We had to get some of the players through the first game and rest some, so they were fully sharp for tonight. This is the best way to go for tonight's game. Raheem Sterling is hugely important. He's ready. They're all ready. His levels of performance and important goals, he's really come alive in an England shirt. He's a massive part of what we do. Germany are one of the benchmarks for me, they've consistently delivered in major tournaments, so we have to follow up what we did last summer by coming into their home ground and putting on that sort of performance."
As for Germany's willingness to take a knee with England before kick-off, he adds: "Both nations have vastly multi-cultural populations, and both have had issues with that. So we're united on that, we stand together on that, and it's an important show of camaraderie."
Germany will be wearing their famous white shirts with black trim. That means England will be in this lovely blue number. Harry Kane will hand over an almost insultingly dull pennant, designed to strict that'll-do specifications by the famous creative agency Boots On Desk. By way of contrast, the captain's armband, which celebrates Pride Monthis a soothing balm for sore eyes.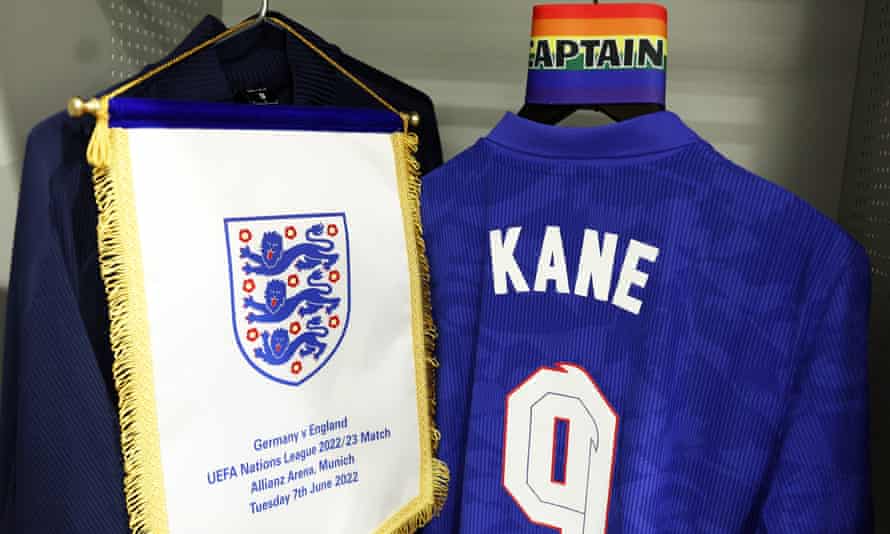 No staging of this fixture is allowed to pass by without mention of that 5-1 win in 2001. How did Guardian Unlimited Football, as we styled ourselves back then, mark the occasion? Well, kids, in the days before David Squires, another cartoon genius roamed the earth, and he was called Ormondroyd …
England make five changes to the starting XI selected for the Hungary defeat. Kieran Trippier, John Stones, Bukayo Saka, Kalvin Phillips and Raheem Sterling, winning his 75th cap, replace James Justin, Conor Coady, Trent Alexander-Arnold, Jude Bellingham and Jarrod Bowen. All drop to the bench except for the injured Justin. Marc Guéhi returns to the squad.
Germany make seven changes to the side named for the draw in Italy. David Raum, Lukas Klostermann, Nico Schlotterbeck, Jonas Hofmann, Ilkay Gundogan, Kai Havertz and former England youth international Jamal Musiala step up; Thilo Kehrer, Niklas Süle, Benjamin Henrichs, Leon Goretzka, Timo Werner, Serge Gnabry and Leroy Sané step down.
The last time these two great rivals met – one year ago, give or take a couple of weeks – England pulled off one of the most memorable victories in their history. Raheem Sterling and Harry Kane scored late goals at Wembley in a round-of-16 victory during Euro 2020, a joyous occasion that gave Gareth Southgate's team the belief to make it all the way to the final. But they were facing a different Germany last June. Joachim Löw's side had been beaten in the groups by France and held by Hungary; Now Hansi Flick's team are nine unbeaten, having just held the Netherlands and Italy to draws away from home, Mannschaft momentum well and truly restored.
England by contrast were flying back then, having just won eight in nine, confident coursing through their veins, the dream of becoming European champions spurring them on. Now they've just come off a dismal 1-0 defeat in Hungary, and are to a man completely knackered at the end of a long, seemingly never-ending season. They'll need to regroup tonight in Munich, else they'll find themselves behind the eight-ball in Nations League A3 a mere four days after the get-go. A year – give or take a couple of weeks – is a long time in football. Kick off at the Allianz Arena is at 7.45pm BST. It's on!